Published: Monday, November 16, 2015 09:59 AM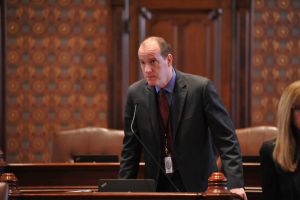 Senator Bill Cunningham (D-18th) and other local officials recently sent a letter to the Illinois Congressional delegation asking Congress to hold CSX accountable for problems in Mount Greenwood and Evergreen Park.
"Too many residents in our communities are being negatively affected by blocked grade crossing, pedestrian safety problems and idling trains which poses an environmental hazard to our communities," said Cunningham.
CSX has promised to move a scheduled train off the Elsdon line, which runs just east of Kedzie Avenue, but Cunningham is concerned that this is just a continuation of the long back and forth that has occurred with CSX.
"This is not the first time we have had CSX make a promise. Repeatedly, we receive assurances that the problems will diminish and we are continually facing the same issues. Moving one or two trains isn't going to fix the problem," said Senator Cunningham.
The letter signatories that joined Senator Cunningham were State Representatives Fran Hurley and Kelly Burke, Chicago 19th Ward Alderman Matt O'Shea, and Evergreen Park Mayor Jim Sexton. The letter accuses CSX of failing to comply with at least 14 "mitigation measures" imposed on the railroad by federal regulators when the CSX acquisition of the Elsdon line was completed in 2013. Cunningham and the other local elected officials are urging the federal government to sanction CSX with fines or more strenuous regulations.
Category: News