Published: Friday, November 01, 2013 09:24 AM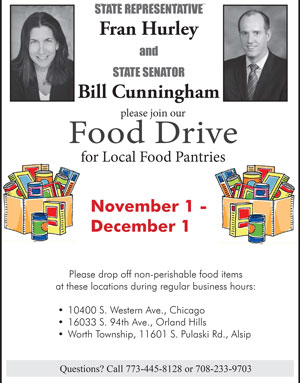 Chicago – To help boost supplies at local food pantries during the holiday season, State Sen. Bill Cunningham and State Rep. Fran Hurley are launching a food drive at their local offices. From Nov. 1 to Dec. 1, community members are encouraged to drop off non-perishable food items at the offices listed below.
Chicago Orland Hills Worth Township
10400 S. Western Ave., Chicago 16033 S. 94th Ave., Orland Hills 11601 S. Pulaski Rd., Alsip
8:30 a.m. – 5 p.m. 10 a.m. – 2 p.m. 9 a.m. – 4 p.m.
"For many struggling families, the holidays are the most difficult time of the year," Cunningham said. "I hope we can all put aside a little to help those families in need. Any size donation is welcome and can help make a substantial difference."
All donations will be given to local food pantries in Chicago, Orland Hills, and Worth. Last year, a similar food drive by then-State Rep. Cunningham raised nearly 300 pounds of food for local pantries. Unfortunately monetary donations cannot be accepted, but gift cards are welcome.
Category: Press Releases