Published: Friday, July 29, 2016 03:45 PM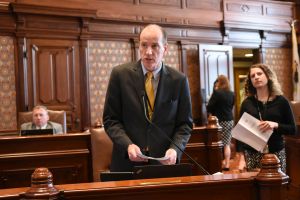 SPRINGFIELD – After learning about an outlandish severance package given to an outgoing community college president by a lame duck board of trustees, Senate Bill Cunningham knew something had to change.
Cunningham proposed a package of reforms that was signed into law today, making the hiring and firing process of college administrators more transparent and fair to both taxpayers and students.
The package includes a proposal that would require community college boards and university boards partake in a minimum of four hours of professional development training that ranges from labor laws to ethics training.
"We need to protect taxpayers and tuition payers," Cunningham said. "Tuition is on the rise in part because of abuse in the hiring and firing of chief administrators of our state universities and community colleges."
Another proposal in the package would ban a lame duck community college board from approving a new contract with less than 45 days left before the next election.
Category: Latest