Published: Friday, November 02, 2018 03:39 PM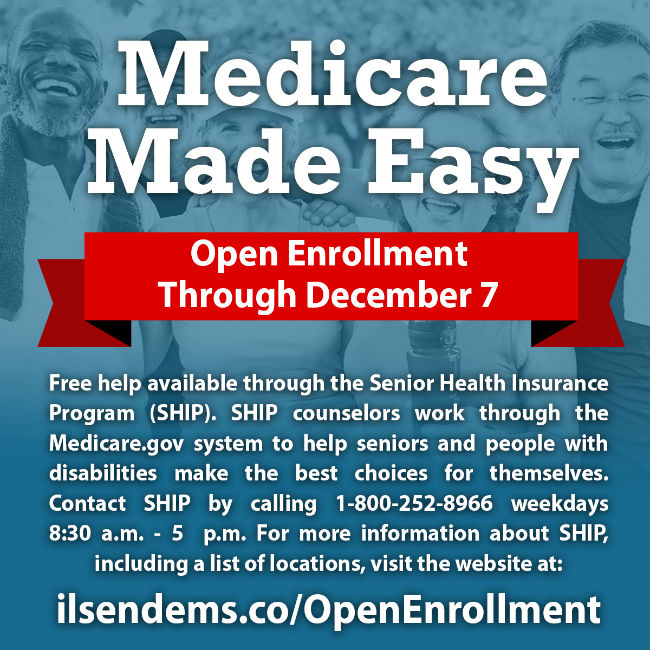 Free counseling assistance is available locally through Dec. 7 for Medicare-eligible residents and their caregivers during the Medicare Open Enrollment period.
During open enrollment, eligible adults can adjust Medicare Advantage or Medicare prescription drug coverage, move from original Medicare to a Medicare Advantage plan – or vice versa, switch between Medicare Advantage plans, join a Medicare Prescription Drug Plan, or switch or drop existing drug plans without penalty.
Because these can be overwhelming and confusing decisions, assistance is available to help clients find the closest State of Illinois Senior Health Insurance Program (SHIP) office, where they can schedule appointments to get help with open enrollment.
Those offices are at the following area locations:
Little Company of Mary Hospital, 2800 W. 95th St., Evergreen Park – 708-229-5456
Advocate Christ Medical Center – Senior Services, 4440 W. 95th St., Oak Lawn – 708-684-4150
Orland Township, 14807 S. Ravinia, Orland Park – 708-403-4222
Palos Community Hospital, 12251 S. 80th Ave., Palos Heights – 708-923-4785
PLOWS Council on Aging, 7808 W. College Drive, Suite 5 East, Palos Heights – 708-361-0219
SHIP counselors work through the Medicare.gov system to help seniors and people with disabilities make the best choices for their individual situation. Residents can contact SHIP by calling 800-252-8966 between 8:30 a.m. and 5 p.m. weekdays.
For more information, including a complete list of SHIP locations, visit http://www.illinois.gov/aging/ship/Pages/default.aspx.
To compare 2019 drug and health plans or to find out more about Medicare options, including preventive services now covered, visit the federal website at medicare.gov. Medicare customer service representatives are available around the clock at 800-633-4227.
SHIP is not affiliated with any insurance company, and counselors do not sell or solicit any type of insurance. SHIP counselors in the field help seniors and people with disabilities on Medicare understand the options available to them. They also educate and answer questions about Medicare plans and options.
Category: Latest