Published: Thursday, November 17, 2016 08:45 AM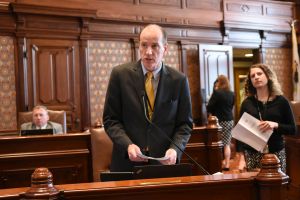 SPRINGFIELD—State Senator Bill Cunningham on Tuesday voted to override the governor's veto of Senate Bill 440.
The legislation will bring pension parity to retiring Chicago police officers and fire fighters born after 1955. It would also ensure that a widower's benefit would never decrease below 125 percent of the federal poverty level.
"All public safety workers put themselves in the line of duty to protect and serve our communities," Cunningham said. "After protecting our communities for their whole careers, they should be able to retire knowing that they will be able to provide for their families."
The legislation now moves to the House for an override vote.
Category: Latest