Dear Friends,
As we move to the end of the calendar year and the budget stalemate in Springfield continues, I thought now might be a good time to give you a legislative update. The failure of the Governor and the General Assembly to agree on a budget is incredibly frustrating and it is starting to have a profoundly negative effect on some of our most vulnerable citizens. It's time to stop holding the budget hostage. I believe the governor should call the legislature into a special session and keep us in Springfield until the impasse is solved.
In the meantime, I am continuing to work on a number of issues, both budget and non-budget related, which are highlighted below.
Contact my office by visiting my website.
Sincerely,


Senator Bill Cunningham
18th District – Illinois
Higher Education

With middle class families struggling to afford rising tuition costs, I have focused much of my attention this year on curbing administrative bloat and generous compensation packages for presidents at our state colleges and universities. As chairman of a special subcommittee that was formed to investigate a series of controversies at institutions of higher learning in Illinois, I have proposed Senate Bills 2155-2159 and 2174, which will make both community colleges and universities more transparent and responsive to the public. I continue to advocate for smart reforms to make our educational institutions some of the best in the country.
Protecting Our Homes/Providing Property Tax Relief

I succesfully sponsored a new law (SB 1487) to prevent scammers from filing false legal claims on foreclosed homes, a practice that has resulted in squatters taking over a number of vacant houses in our communities. Additionally, I sponsored and passed through the Senate a bill that will automatically renew the homeowners exemption for senior citizens, relieving them of the burden of having to annually refile paperwork with their county assessor.
License Plate Renewal Warning

As a result of the budget standoff, the Secretary of State no longer has funding to send out notices to motorists whose license plate stickers are about to expire. Please check the date on your license plate and if necessary, visit this website to renew your sticker.
If you would like to recieve email reminders about renewing your vehicle registration please go to this website. You must have your registration and PIN numbers to be able to register for email notices.
Pensions

A recent statement by the state comptroller regarding pension payments sparked a number of concerned calls to my office. To be clear, Comptroller Munger was referring to her office delaying the flow of state money into the pension investment funds. This is an unnecessary result of the budget impasse, but it will have no affect on monthly pension payments to retirees. They have a constitutional right to those checks and they will continue going out.
Upcoming District Events


Halloween Trick or Treat Walk
2-5 p.m. October 30
Trick or Treat down the business district of 111th Street and Kedzie Avenue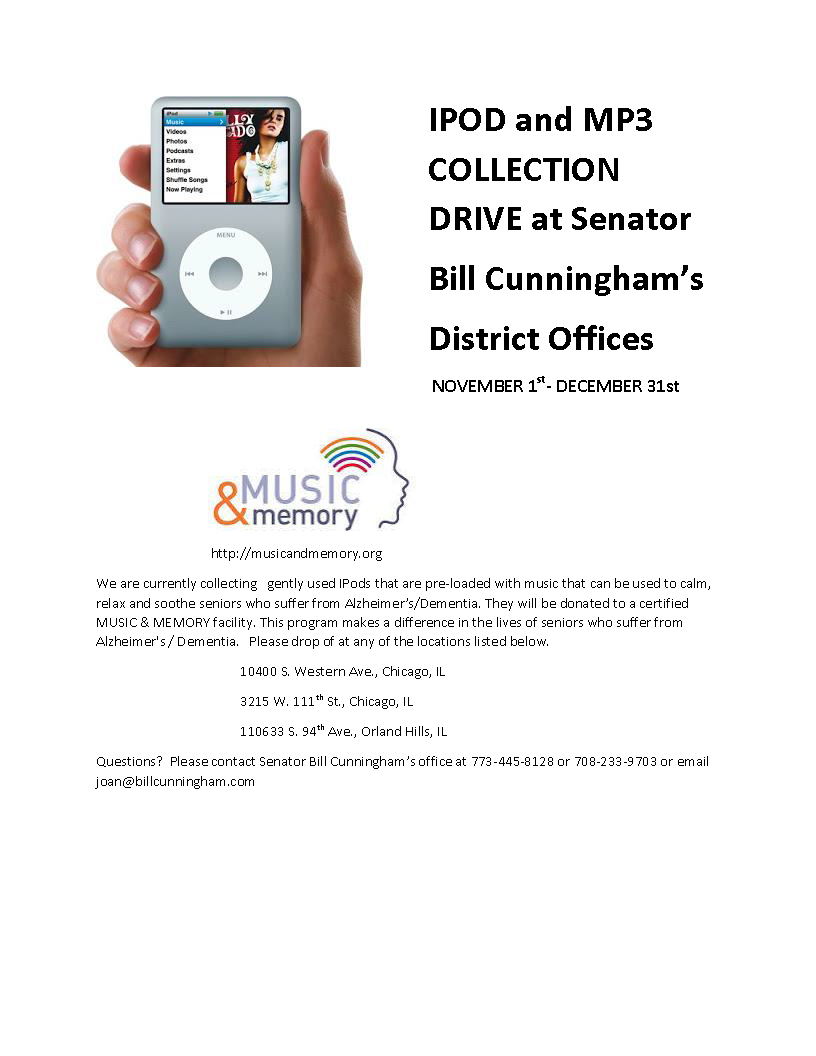 iPod and MP3 Collection Drive
November 1-December 31
Drop off gently used iPods or MP3 players to any of Senator Cunningham's district offices. These devices will be donated to an organization that uses them to help those with Alzheimer's or Dementia.

Center for Elder Law Seminar
9:30 a.m. November 4
10802 S. Roberts Road, Palos Hills
Mr. Mark Hellner, director of the Senior Tax Opportunity Program at Center for Disability and Elder Law Seminar to present services he provides to low income seniors and the permanently disabled. Refreshments Available
Coffee & Conversation
Saturday November 14 8am-9am
Starbucks
14209 S. LaGrange Road, Orland Park
Beverly Hills Turkey Trot
5K Run and Family Walk
Saturday November 28th 2015
Register Here!
Chicago Office
10400 South Western Ave. • Chicago, IL 61101
Orland Park Office
16033 S. 94th Ave. • Orland Hills, IL 60487
708-233-9703 (Phone)
Springfield Office
M115 Capitol Building • Springfield, IL 62706
217-782-5145 (Phone)
The 18th Legislative District includes sections of Alsip, Chicago, Chicago Ridge, Evergreen Park, Merrionette Park, Oak Lawn, Orland Park, Palos Heights, Palos Hills, Palos Park, Willow Springs and Worth.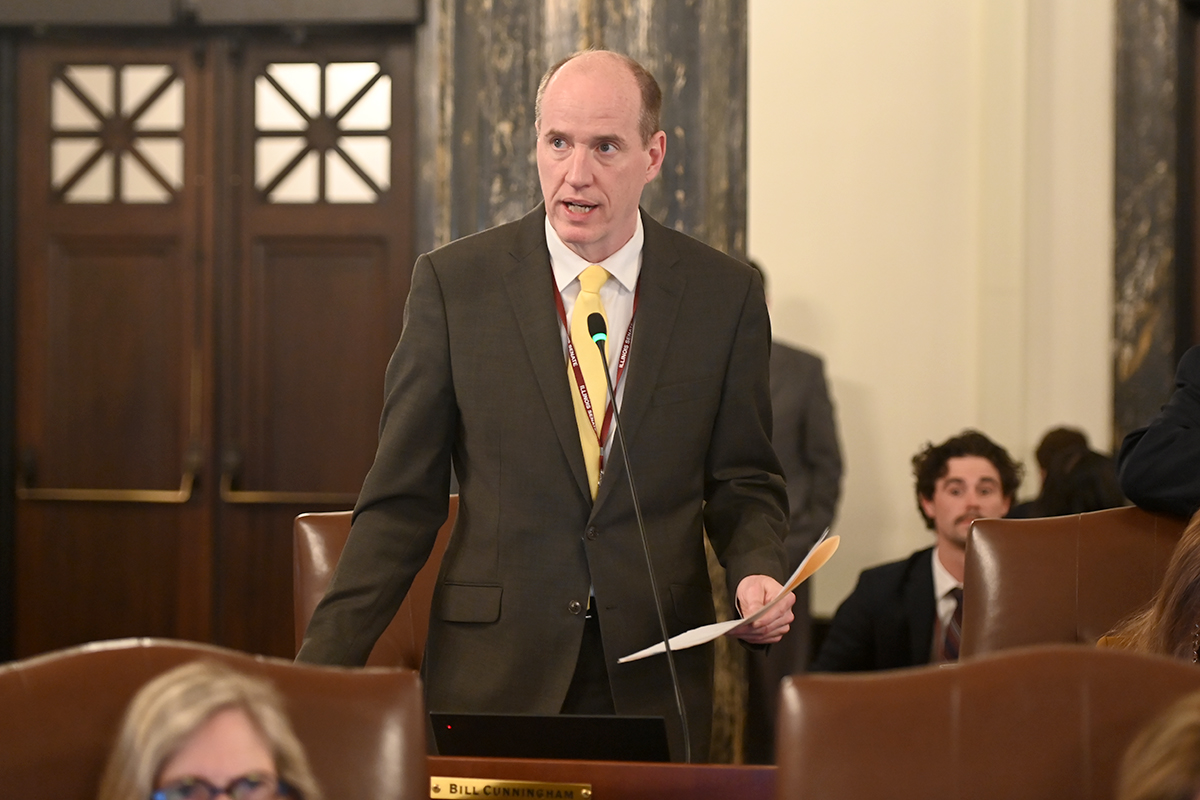 Bill Cunningham is a lifelong resident of the Chicago community and the 18th Senate District. Prior to being elected to the Illinois Senate, he served in the Illinois House of Representatives from 2011-2013.
As the state senator for the 18th District, Cunningham represents sections of Orland, Worth and Palos townships in the southwest Cook County suburbs and the neighborhoods of Mount Greenwood, Beverly, Morgan Park and Auburn-Gresham in Chicago.
During his time in the Legislature, Cunningham has sponsored several pieces of legislation designed to crack down on registered sex offenders and protect senior citizens. He advocated for legislation that would ensure the integrity of Illinois elections. He also passed bills that ended ticket quotas for Chicago police and made it easier for consumers to freeze their credit to protect their identities.
Before serving as a state representative, Cunningham spent 20 years working for the Cook County Sheriff's Office, serving as director of communications to Sheriff Mike Sheahan and chief of staff to Sheriff Tom Dart. He gained valuable experience in these positions, managing nearly 7,000 sheriff's employees and developing policies for one of the largest law enforcement agencies in the nation.
As a husband and father, Cunningham has been active in his community, coaching a youth soccer team and volunteering for charitable causes. He has also worked to improve educational institutions in his neighborhood by serving as a parent representative on the Sutherland Local School Council.
He is a graduate of Mount Carmel High School and the University of Illinois at Chicago. He and his wife, Juliana, have two daughters and reside in the Beverly neighborhood of Chicago.