Published: Monday, February 01, 2016 12:25 PM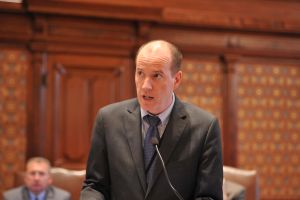 CHICAGO— Senator Cunningham recently sent a letter to an official at Palos Community Hospital urging the hospital to reconsider their current plans to close Palos Health and Fitness Center and attempt to protect the facility and the services it provides.
"This facility provides unique services that many in the community utilize to leading a healthy lifestyle," said Senator Cunningham. "I respectfully ask that Palos Community Hospital reconsider their decision or find a way to continue to provide this excellent service to their community."
Members of the fitness center were recently notified that the facility would shut down May 1. The facility which is run by Palos Community Hospital was set for demolition to make space for a new office building.
The facility offers many opportunities for residents to continue on a path to recovery from an illness or injury. It also allows many to be able to continue on a path to living a healthy lifestyle by offering many services including medical programs and nutrition training.
Senator Bill Cunningham recently opposed the proposal to close the community health and fitness center over an approval to build a new office building instead.
To read the letter, please click here.
Category: Press Releases