Published: Wednesday, April 06, 2016 05:20 PM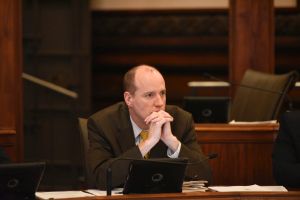 SPRINGFIELD—Senator Bill Cunningham is pushing for a measure that would ensure local police departments are held accountable when it comes to sexual assault kits.

The legislation, Senate Bill 2221, would require that if the local police department did not follow up on the positive match, then the proper state's attorney would be notified by the state police. It would also require that an inventory be taken both at the state police and the local police departments of all DNA kits in their possession.

"It is a travesty that many cases that have potential DNA matches are not being followed up on," Cunningham said. "These are cases that could have closure and we need to be taking steps to ensuring criminals are being caught and that they have their day in court."

According to the Cook County Sherriff's Office, several law enforcement agencies still have untested sexual assault kits or cases that have not yet been pursued even though a potential DNA match has been found.

Recently, the Village of Robbins was alerted to a positive match on a DNA test kit yet the police department did not follow up with that positive match.

"We need to ensure that we know what happens to these cases and that action is being taken on them. We should hold local law enforcement agencies accountable to protect and serve their communities," Cunningham said. "That is what this legislation does. It ensures that evidence is being utilized and criminals are being brought to justice."

The Senate Criminal Law committee passed the legislation without objection. It now moves to the full Senate for consideration.


Category: Press Releases