Published: Friday, July 22, 2016 04:52 PM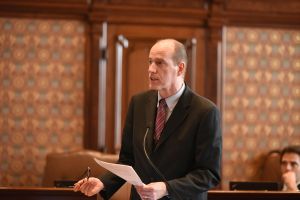 SPRINGFIELD—New safeguards for processing DNA evidence will be put in place to improve tracking of sexual assault offenders thanks to legislation, sponsored by Senator Bill Cunningham, being signed into law.
On Friday, the governor signed Senate Bill 2221, which would require the state police notify not only the local police department when a potential DNA match has been found, but they must also report the finding to the appropriate state's attorney.
The new law comes in response to a situation that occurred in the Village of Robbins, when the local police department failed to follow through on a rape investigation after a state crime lab alerted them of a positive match on a DNA test kit. The suspect identified by the lab was never arrested and went on to commit additional crimes.
"This new law will enable prosecutors to follow up on lab reports and ensure that positive DNA matches are being investigated by local police departments," Cunningham said. "Victims of sexual assault must have confidence that law enforcement is doing everything possible to track down violent sexual predators."
The new law would also require that local police departments and the state police take annual inventories of DNA test kits in their possession and report that to the appropriate state's attorney's office.
The new law went into effect immediately. Cunningham thanked Cook County Sheriff Tom Dart for bringing the issue to light and for his department's work reinvestigating dozens of unsolved rape cases in Robbins.
Category: Press Releases