Published: Thursday, July 28, 2016 11:42 AM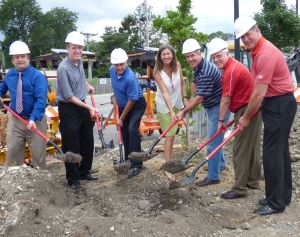 CHICAGO – Drivers who travel near Marist High School will enjoy a faster commute and less congestion because of a road widening project backed by Senator Bill Cunningham and Representative Fran Hurley.
"For years the residents of our community have been dealing with the extreme congestion that occurs at the intersection near Marist," Cunningham said. "We needed a solution."

The local project includes adding a turn lane to smooth out traffic at 115th Street and Pulaski Road. Cunningham and Hurley pushed the Illinois Department of Transportation to prioritize widening the intersection.
"Projects like these continue to be critical drivers in our economy," Cunningham said. "We can't let road projects lapse. It harms our communities and allows our infrastructure to degrade."
"This intersection has been a traffic-clogging nuisance to motorist in our community for decades," Hurley said. "Not only will widening the intersection make for quicker commutes, it also will make the intersection safer for both motorists and pedestrians."
The project is part of the nearly $63 million dollars planned to be invested in roadwork throughout the 18th Illinois Senate district over the next six years.
Prior to the stopgap spending plan passed by the General Assembly on June 30, the director of IDOT announced that all projects would be stopped on July 1 due to the lack of a budget. But Senator Cunningham and Representative Hurley pushed for a stopgap measure that would keep projects on schedule.
From Left to Right: Edward Moody, Worth ​Township Highway Commissioner, Senator Bill Cunningham, 18th Senate District, Patrick Kitching, Mayor of Alsip, Representative Fran Hurley, 35th House District, Kevin Hughes, Supervisor of Worth Township, Brother Hank Hammer, President of Marist High School,
Larry Tucker, Principal of Marist High School
Category: Press Releases