Published: Tuesday, August 22, 2017 04:29 PM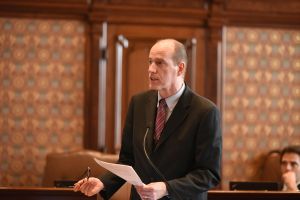 SPRINGFIELD – A bipartisan measure to close a conflict of interest loophole in Illinois statute became law on Tuesday.
"Good government should apply to everyone throughout the state," said State Senator Bill Cunningham. "This new law will help ensure grant awards aren't compromised by conflicts of interest."
The new law bans members of the Illinois Energy Conservation Advisory Council from receiving any state grants for teaching continuing education regarding any rule proposed by the council. The measure received unanimous support in both chambers of the Illinois General Assembly.
"This is not the end of our work. We need to continue as a state to close these loopholes and this law is just a step in the right direction," Cunningham said.
The new law is effective immediately.
Category: Press Releases