Published: Monday, July 23, 2018 06:19 PM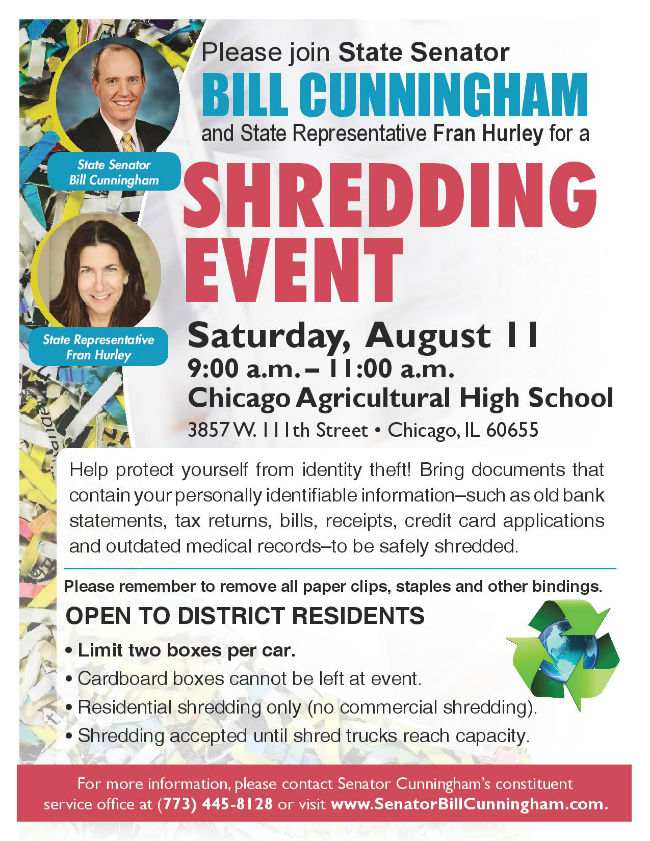 CHICAGO – Area residents are invited to protect themselves from identity theft by taking advantage of a free document shredding event at the Chicago High School for Agricultural Sciences Saturday, Aug. 11.
State Senator Bill Cunningham and State Rep. Fran Hurley are co-hosting the service, which will take place from 9 to 11 a.m. at the school, located at 3857 W. 111th St., Chicago.
Residents can bring confidential documents that are printed with personally identifiable information to be safely shredded. This includes old bank statements, old pay stubs, tax returns older than 7 years, bills, receipts, invoices, credit card applications and outdated medical records. (More details about what will or won't be accepted can be found below.)
Some restrictions apply:
The service is free and available to residents of the 18th Senate District and the 35th House District. No commercial document shredding available.
Participants are limited to two boxes per car.
Paper clips, staples and other bindings should be removed from all documents before shredding.
Cardboard boxes may not be left at the event site.
Shredding will be done until the shred trucks reach capacity.
Category: District Events