Published: Friday, May 05, 2017 02:30 PM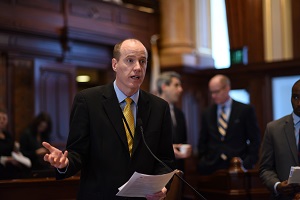 SPRINGFIELD – People committing repeat violent offenses could soon be denied bail by bond court judges under legislation passed by the Illinois Senate on Friday.
"What we are seeing is that many people who commit some of these gun crimes find a way to post bond relatively quickly. One place where that shouldn't be allowed is if you commit the crime in a place where children may be present," State Senator Bill Cunningham (D-Chicago) said.
The measure, Senate Bill 1980, was an initiative of Cook County Sheriff Tom Dart. It would not allow bail to be set if proof is evident or the presumption of guilt is so great that a significant gun crime was committed and that the defendant presents a real and present threat to the safety of any individual.
"Given the spike of gun crimes in Chicago, we need to give judges the tools they need to stop the revolving door of violent offenders who cycle in and out of jail," Cunningham said.
Some of the gun crimes included are aggravated discharge of a firearm with a silencer, aggravated unlawful use of a weapon, armed habitual criminal or unlawful possession of a firearm by individuals convicted of a violent offense.
Category: Press Releases