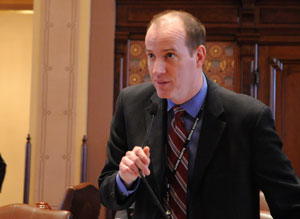 As the spring legislative session came to a close last week, State Senator Bill Cunningham and State Representative Fran Hurley helped pass a crucial measure to protect the retiree health benefits of Chicago police officers, firefighters and other former municipal employees.
Senate Bill 1584 will extend a state law that requires four Chicago pension funds to cover certain healthcare costs for retirees. Without the legislation, retirees would have been required to pick up the cost of the benefit beginning on July 1 of this year.
"Thanks to this legislation, retired Chicago employees will not have to reach into their own pockets to cover a large portion of their health benefits," Cunningham said. "Our retired police officers, firefighters and other municipal workers earned these benefits and should not have them canceled because some obscure state law is scheduled to expire."
"Changes to retiree health benefits should be negotiated through collective bargaining, not through the legislative process," Hurley said. "My hope is the extension of these benefits will give retirees some cost certainty."
Currently, the pension funds covering Chicago police officers, firefighters and other city employees provide a health insurance subsidy of $95 per month for each annuitant, including widows and children, who are not eligible for Medicare benefits, and $65 per month for each annuitant eligible for Medicare. These payments are scheduled to end on June 30, 2013. If Governor Quinn signs SB 1584 into law, the benefits will be extended.
Payments for these healthcare benefits grew out of the 1987 Korshak lawsuit that stopped the City of Chicago's attempt to roll back retiree health care benefits for former employees. As part of the settlement, retirees and the pension funds started paying for a portion of retiree health insurance costs. The Firemen's Annuity and Benefit Fund, the Chicago Policemen's Annuity and Benefit Fund, the Municipal Employees, Officers and Official Annuity and Benefit Fund, and the Laborers' and Retirement Board Employees' Annuity and Benefit Fund are part of the Korshak settlement.