Published: Friday, April 22, 2016 02:21 PM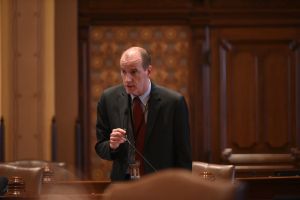 SPRINGFIELD— Senator Bill Cunningham joined many of his colleagues in supporting Senate Bill 2059 to send needed money to state universities and colleges.
The legislation would help schools like Chicago State University and Eastern Illinois University in ensuring they can continue to operate. It would also fund the first semester of MAP grants that many schools, including Saint Xavier University and Moraine Valley Community College, floated to students without any guarantee of the money coming through.
"Today, we took a vote to ensure that schools can continue to function and educate our students," Cunningham said. "This is not enough, but it opens the door to continue to work in a bipartisan manner."
The legislation now goes to the governor's desk for his signature.
Category: Press Releases