Published: Friday, April 12, 2013 10:26 AM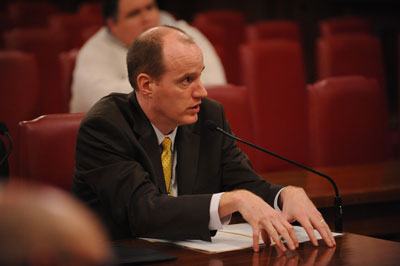 State Senator Bill Cunningham's (D-Chicago) legislation to allow students with disabilities to receive physical education credit if they participate in outside athletic programs has passed the Illinois Senate.
Currently, many student-athletes in Illinois do not qualify for waivers simply because their schools do not offer sports programs that accommodate students with disabilities. Senate Bill 2157 would correct this problem by giving local school boards the ability to grant P.E. waivers to disabled students who are engaged in athletic activities outside of school.
Under current state law, high school students who participate in interscholastic athletic programs can receive waivers that allow them to skip P.E. classes.
"If a student with a disability participates in an athletic program, he should have the opportunity to receive a P.E. waiver just like his peers who play basketball and football," Cunningham said.
In a past education committee, Adam Woodworth, a parent from the senator's district testified with his son, Tyler, a student at Lockport High School. Tyler participates in sled hockey, an athletic program for students with disabilities outside of school. Adam wants the ability for Tyler to receive a P.E. waiver for his participation.
If Cunningham's bill becomes law, students with disabilities who participate in athletic programs outside of school could apply to their local school board for a P.E. waiver. A number of sports programs could qualify for the waiver, including wheelchair basketball, sled hockey, the Special Olympics and many others.
SB 2157 passed the Senate and now awaits a vote by the full House.
Category: Press Releases