Published: Tuesday, February 28, 2017 04:11 PM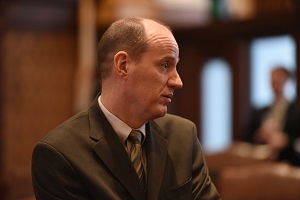 SPRINGFIELD – On Tuesday, the Illinois Senate pushed through legislation that would finish funding state services through the end of the current fiscal year. The legislative package included legislation that would send promised MAP grant money to students for the current fiscal year.
"The state of Illinois committed to assisting students in bettering themselves by attending a university or community colleges," Cunningham said. "We need to send the money we promised these students so that they aren't left hanging with the bill."
The legislation also would fund critical human service programs who saw what little funding was available from the stopgap proposal end on December 31.
"Groups like Sertoma, Park Lawn and Sandbox Learning Center have gone for far too long with no certainty that funding is coming," Cunningham said. "Today, we were able to give them some hope by starting to pass this compromise."
Category: Press Releases