Published: Wednesday, March 02, 2016 05:06 PM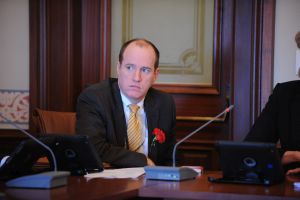 SPRINGFIELD—Senator Bill Cunningham voted on Wednesday to override the governor's veto of Senate Bill 2043, which would fund MAP grants and send money to community colleges.
"This administration made promises to more than 125,000 students that they would receive the MAP grant. What we did over a month ago was give the governor the opportunity to keep those promises," said Senator Cunningham, "But the governor's veto concerns me. There seems to be no intention to keep those promises and that will only deal irreparable damage to our integrity as a state."
"We also have to consider community colleges in this situation. Many of them have approved or will be approving faculty layoffs. These are faculty members that have an impact in the classroom and yet this governor has once again said no to ensuring that the classrooms are properly staffed."
Senator Cunningham represents portions of Worth, Orland and Palos Townships in the southwest suburbs and the neighborhoods of Mt. Greenwood, Beverly, Morgan Park and Auburn-Gresham in Chicago.
Category: Press Releases