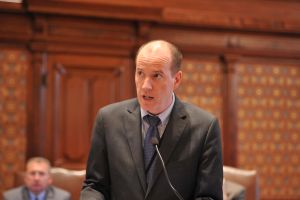 SPRINGFIELD—State Senator Bill Cunningham joined a bipartisan group of legislators to override the governor's veto of Senate Bill 250 which, if overridden by the House, will implement automatic voter registration in the State of Illinois.
Senate Bill 250 provides citizens with an opt-out when the go to apply for a state ID or driver's license at any secretary of state's office. Currently, residents have to opt in to register to vote.
"This proposal will ensure that every Illinoisan has an opportunity to have a voice in our state's democracy," Cunningham said. "We need to be proactive in ensuring that everyone has an easy path to be heard."
The legislation now moves tot he House for an override vote.