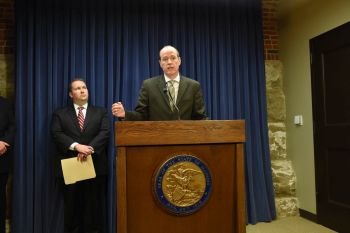 SPRINGFIELD—Senator Bill Cunningham during the spring legislative session pushed to expand and extend the successful accelerated resolution court, also known as Rocket Docket, in Cook County.
The legislation, signed into law today, would add minor traffic and drug offenses to the program and extends the program's sunset date to 2019. The Rocket Docket program expedites the adjudication of minor offenses by requiring they be tried with 30 days.
"This program has been a success since day one in controlling overcrowding of Cook County Jail," Cunningham said. "It also has been a success in lowering the financial burden on taxpayers who fund the jail."
Currently, the Cook County Sheriff refers defendants to the program and the Cook County State's Attorney approves those referrals. For any defendant to be eligible they are not allowed to have any prior convictions for violent offenses within the past 10 years and must be unable to post bond.
"It only made sense to keep a successful program running," Cunningham said.
Senator Cunningham represents portions of Worth, Orland and Palos Townships in the southwest suburbs and the neighborhoods of Mt. Greenwood, Beverly, Morgan Park and Auburn-Gresham in Chicago.