Published: Monday, April 28, 2014 12:00 AM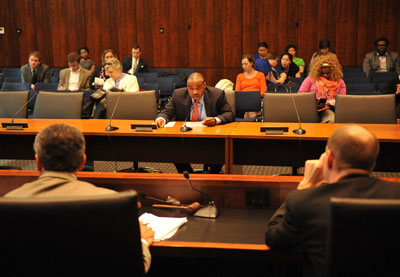 CHICAGO – State Sen. Bill Cunningham held a subject-matter only hearing in Chicago on Friday regarding Senate Bills 2156 and 3460. Both pieces of legislation have been brought forward with the intention of limiting the amount of standardized testing students must participate in within the Chicago Public School District.
Under the current standards, students participate in up to 38 hours of standardized state testing every school year which adds up to nearly an entire week dedicated to testing instead of learning. As a result, some students can fall behind - something Senator Cunningham doesn't think is acceptable.
"As a parent and a legislator, I have heard from countless educators in our community about the excessive tests they are forced to administer every school year," Cunningham said. "This is why I've decided to sponsor two pieces of legislation that could greatly reduce the amount of state standardized testing schools are required to conduct every year."
Senate Bill 2156 would directly limit the number of standardized tests to four annually, two of which must be state assessments and the other two would be for teacher evaluations. In addition, Senate Bill 3460 would not allow for the administration of State-developed tests to kindergarten, first and second grades for any reason other than diagnostic purposes.
The hearing was held in Chicago at the Michael A. Bilandic building.
Category: Press Releases